Hello everyone!
This morning we did a new release that provides tons of great and useful features for Bitbar Testing users. Most of the work that we did for this release were 'under the hood' and there were only a few visible (but still meaningful) UI changes coupled in this release. As I mentioned in our first UI update post at Bitbar Blog we're about to rewrite many of our views, widgets and UI entities with Vue.js library.
Lots of great things have happened lately and in this brief post I'll shed some light on what happened with the latest one.
New Default Application Icons in Files Library
First of all, finding your app will be much easier now as everything will be stored in our cloud. This means that you don't need to re-upload your app again and again, but instead, it'll be quick to get things flying with whatever version of your app uploaded in our cloud before.
The Syntax Coloring of iOS Manual Testing Logs
This is an awesome feature for many of you that have been using our iOS Manual Testing solution and we're happy to say that the log syntax is now colored the same way as Android logs typically are.
Introducing (new) Beta Features
The BETA Features are something totally new in our UI. This approach actually provides us a way to introduce and experiment with some new UI changes, widgets and generally UI features with every release – and naturally, we're always looking forward to your feedback on those!
With Beta Features, we decided that give you an access to these features despite those are not finalized and – yes, sometimes even not properly tested. Why? In short, we're expecting your user experience feedback and general comments on those. In our internal doing, we've found out those extremely useful and efficiency improving UI features so we wanted to share those with you.
In time, and based on your feedback, we'll decide whether those features will stick with our products or not. Basically, you decide that! Just chime in and let us know in the comment section below, contact us via the contact form or talk to your Bitbar representative what you like about those. There is a good chance these features will be available across all our product deployment options, so this is all up to you!
You are driving us forward, your feedback is pushing us to do our best. We're looking forward to hear from you!
Okay, so how to get started with BETA Features? First, to enable BETA Features simply go to My Account page and under My Preferences change Show Beta features to Yes.
BETA Feature: Manual Testing Key Binding
The first introduced BETA Feature is Key Binding in Manual Testing. This tool allows you to bind (almost) every keyboard key to device screen position. By pushing down any key you are pushing the screen in certain position. Nice and simple!
Few limitations:
You cannot click on screen with mouse and hit bound key in the same time. 
Currently key binding are not stored nor saved anywhere, so you need to setup keys each session (will likely change in the future).
Here is a quick demo and new tutorial how to use it:
Let us know what do you think about this feature. It's up to you if we will finish it and add saving your configurations etc.
Oh, and remember: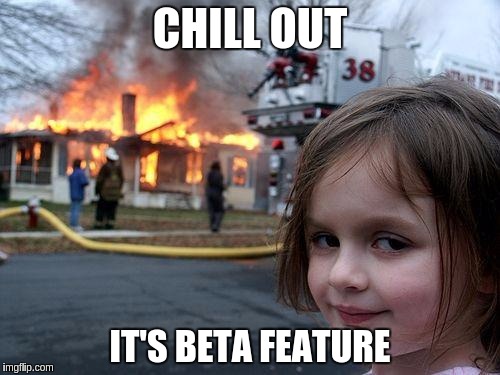 😀
That's all! What next? I can only tell you that we are working on unifying all logs widgets to look and feel the same (also by supporting themes that are currently in Manual Testing). Also part of our team is working hard with a Slack integration and upgrading E-mails notifications system. But let's keep it our secret – *sic!* 😉
For now I wish you fruitful testing and see you next time!
---
Learn these 3 aspects to wisely turn your mobile development team into agile, efficient and productive mode.
Download
---